Your files stay private. Secure file uploading by HTTPS.
How to sign a PDF in 3 easy steps
1
Upload your file
Drag your file on to the dropzone above, or click Upload to choose a file from your computer.
2
Sign PDF
Once your file is uploaded, sign PDF using DocFly's online PDF writer. Select your PDF file, then click 'Edit PDF' from the 'Edit' tab to launch the writer.
Once the PDF writer has launched, click Signature under the Edit tab. Here you can choose to write out your signature, draw your signature, or upload an image of your signature. Once your signature is created, you can insert signature in PDF files.
3
Download your file
Get 3 Free downloads of your PDF file. Sign up for a monthly or annual subscription for unlimited downloads.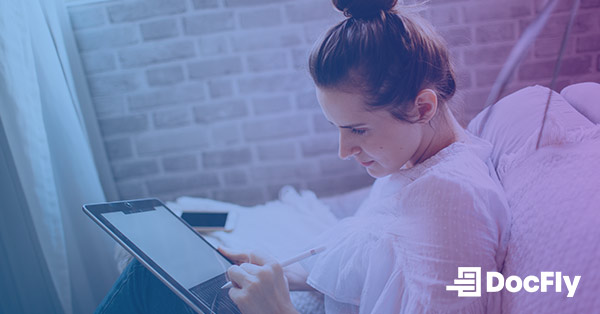 Adding a signature to a PDF is one of most common edits that needs to be made to a file. This is especially true for lawyers, government officials, and professionals who frequently deal with contracts and legal documents. Fortunately, in most countries electronic signatures are just as legitimate from a legal perspective as a hand written signature. Instead of printing the document, signing it by hand, and then scanning it back to your computer, it is much easier to write signature on PDF digitally. If you need to sign a PDF document, using DocFly is the faster, easier, more environmentally-friendly way to sign.
The easiest way to sign PDF online
How to Sign PDF Documents
Looking for how to sign a PDF document? Look no further than DocFly! With our free online writer, you'll learn how to sign a PDF file quickly, and paper-free.
Easy to use free PDF signature tool
Adding a signature to a PDF is easy - draw it, write it, or upload an image to create your electronic signature. This free tool gives you greater control over the quality of your digital signature.
Accurately draw signature on PDF
DocFly's online PDF writer is one of the most user-friendly options on the market. Our writer allows you to sign a pdf document quickly - with an electronic signature that looks as if you signed it by hand.
Secure upload and file storage
All file uploading is encrypted via HTTPS to safeguard your content. Files are stored in a secured database managed by Amazon Cloud hosting. You can delete your files from our system anytime.
Access files from anywhere
DocFly is an online service and is accessible via any device connected to the internet. You can access your file from your home, the office or anywhere else.
Always up to date
DocFly is on the cloud, so whenever you access the site, you're accessing the latest version of the software. No lengthy updates - or software downloads - required.
DocFly Pro Tip: Write Signature on PDF Electronically to Save Paper
In the past, if you needed to sign pdfs, you had to print every agreement that required a signature. So it's not surprising that almost everyone instinctively prints an agreement as soon as they see it in their inbox. And that adds up to a lot of wasted paper! Happily, new solutions like this free tool from DocFly allow you to sign a PDF document in seconds. It's faster and more eco-friendly to insert signature in PDF documents online - and you'll help to save our planet in the process!
CREATE PDF