How to Convert PowerPoint to PDF

Your files stay private. Secure file uploading by HTTPS.
How to Convert PowerPoint to PDF file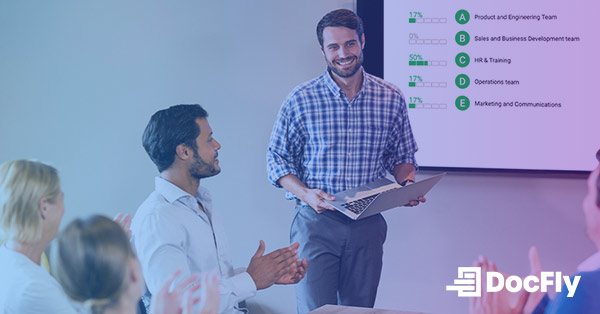 Microsoft PowerPoint is the most common format for giving presentations such as business or academic reports. It may be useful to convert PowerPoint to PDF if you need to print or forward a presentation to other people. Fortunately, it's easy to change PPT to PDF without changing the format of your original PowerPoint file. DocFly allows users to convert PPT or PPTX to PDF. We designed our PowerPoint to PDF converter to be able to make the necessary changes while still maintaining the format as closely as possible to the original file.
The easiest way to convert PowerPoint to PDF online
Quickly convert Your PowerPoint File
Looking for a way to quickly convert ppt files to PDF? Look no further than DocFly! With our free online converter, you can transform PPT to PDF in less than a minute.
Easy to use online converter
Fed up with managing multiple versions of presentations files when collaborating with teammates? Use DocFly's file converter for improved version control.
Accurate PDF conversion
DocFly's online PDF converter is one of the most accurate out there. When you convert Powerpoint to PDF, the result looks just like your original PPT file.
Secure upload and file storage
All file uploading is encrypted via HTTPS to safeguard your content. Files are stored in a secured database managed by Amazon Cloud hosting. You can delete your files from our system anytime.
Access files from anywhere
DocFly is an online service and is accessible via any device connected to the internet. You can access your file from your home, the office or anywhere else.
Always up to date
DocFly is on the cloud, so whenever you access the site, you're accessing the latest version of the software. No lengthy updates - or software downloads - required.
DocFly Pro Tip: Why use PDF instead of PowerPoint
PowerPoint presentations that contain important information, such as a Board meeting agenda or an annual financial report, are almost always sent as PDFs. This is to ensure that the recipient sees the original formatting of the presentation and to ensure the file remains secure.
Even between the Windows and Apple versions of Microsoft Office, subtle differences often result in different users seeing slightly different formatting of a Microsoft PowerPoint presentation.
Secondly, PDF files prevent users from making changes (without leaving an auditable trail) and can also be password protected. Most presentations containing sensitive materials are thus always sent as PDFs.
CREATE PDF