The Easiest Way to Convert PDF to Word
Convert PDF to DOCX files with the best PDF converter online

Your files stay private. Secure file uploading by HTTPS.
PDF to Word conversion in three easy steps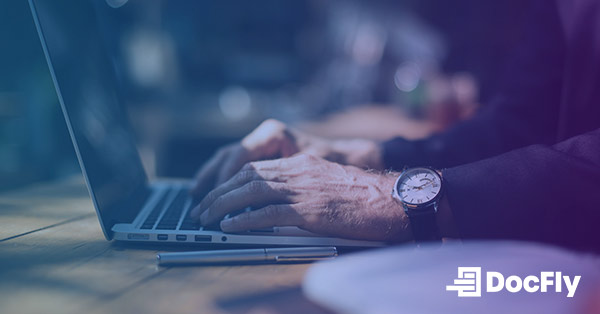 DocFly allows you to convert PDF files to Word quickly, easily and entirely online. Upload your files to our platform, let our PDF to DOC converter do its magic and download your newly created document right away. No more hassle, convert PDF to editable Word in just a few steps. Learn how to convert PDF to Word Document with DocFly by following the steps above.
The easiest way to convert PDF files to Word online
Quickly converts PDF to Word
Looking for a way to quickly convert PDF files to Word? Look no further than DocFly! With our online PDF to Word converter, you'll start creating Word documents in less than a minute.
Easy to use online PDF converter
Fed up with receiving complex PDF files which are impossible to edit? Turn PDF into Word with DocFly. Our online tools make converting PDF to Word and editing PDFs really simple.
Accurate PDF to Word conversion
DocFly's PDF to Word DOC converter is one of the most accurate out there. Our converter renders a Word document as close as possible to your original PDF file formatting.
Secure upload and file storage
All file uploading is encrypted via HTTPS to safeguard your content. Files are stored in a secured database managed by Amazon Cloud hosting. You can delete your files from our system anytime.
Access files from anywhere
DocFly is an online service and is accessible via any device connected to the internet. You can access your file from your home, the office or anywhere else.
Always up to date
DocFly is on the cloud, so whenever you access the site, you're accessing the latest version of the software. No lengthy updates - or software downloads - required.
Why Convert PDF to Word Doc?
The main benefit of converting PDFs to Microsoft Word documents is the ability to edit the text directly within the file. This is especially helpful if you want to make significant changes to your PDF, as most people are comfortable and familiar with Microsoft Word. If you're wondering how to change PDF to Word for free, it's important to note that quality of the resulting Word document is also important, not just the cost. While there are several free PDF to Word converters, the majority do not sufficiently maintain the original formatting and spacing of the file. Our conversion tool delivers a result that looks like your original PDF file.
We created our PDF to Word free converter tool so you no longer need to waste time retyping files in Word. Within seconds you can change your PDF to a Docx and make the necessary edits. Not only is our PDF to Word converter free, online and available whenever you need it, we allow users to convert 2 additional files per month for free too. So go ahead and convert PDF to DOC online for free. We think you will be happy with the results!
CREATE PDF