How to Delete Pages from PDF files
Deleting PDF pages online has never been easier.

Your files stay private. Secure file uploading by HTTPS.
How to delete pages from a PDF file using our free online PDF editor:
1
Upload PDF file
Drag your file on to the drop zone above, or click Upload to choose a file from your computer, Dropbox, or Google Drive.
2
Choose PDF pages to delete
After upload, you will be redirected to our delete pages visual tool. You can either delete pages individually, or select a range of pages to be deleted.
2
Download file
Get 3 Free downloads of your file. Sign up for a monthly or annual subscription for unlimited downloads.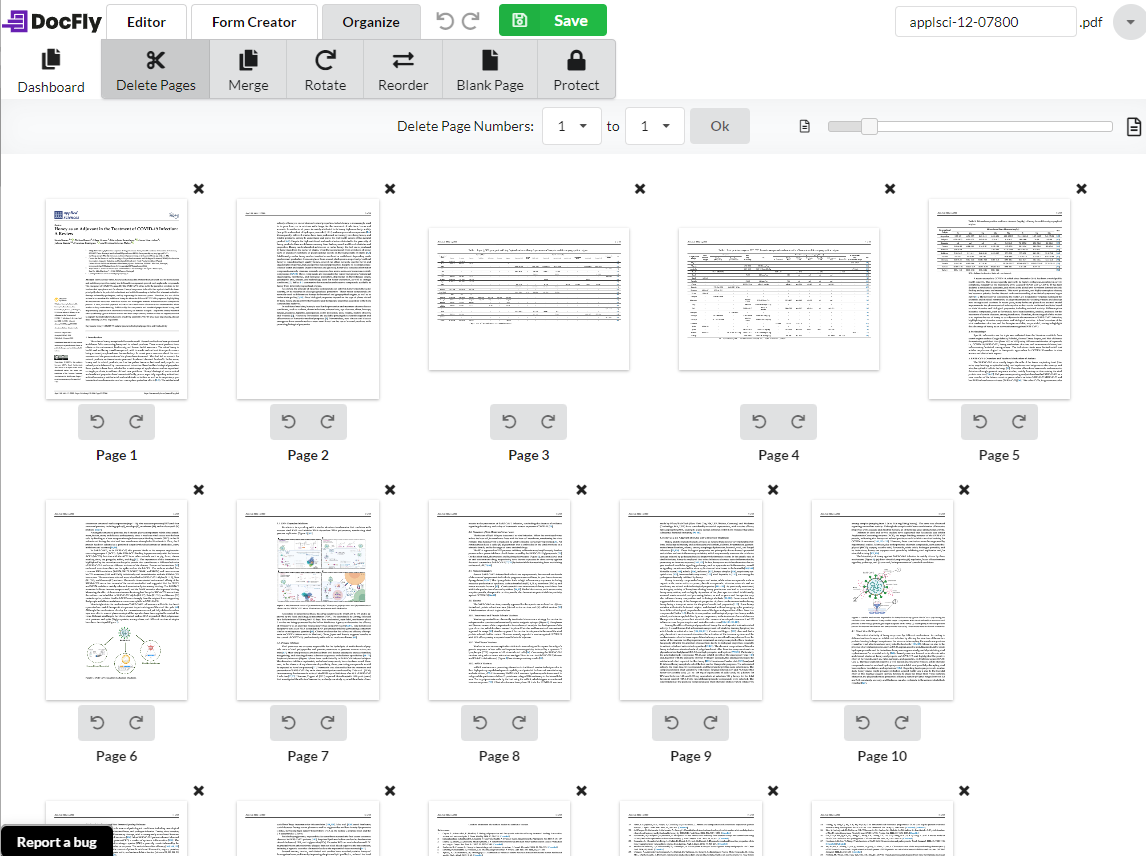 How to delete pages from a PDF
Thanks to DocFly's many tools, it is quite simple to delete pages from a PDF file. Simply delete pages individually using the interface or delete a range of pages using the specific Delete Pages tool. As a free user, there is no need to create an account or make any payment. Simply download your file (you can export or download 3 files a month at no cost) once you have finished your work. If you made a mistake and need to add pages back in, simply use the Merge PDF tool to insert a page.
The easiest tool for deleting PDF pages online
Quickly Delete PDF Pages
Looking for a way to quickly delete pages from a PDF? Look no further than DocFly! With our free online tool, you will be able to delete PDF pages in less than a minute.
When to Delete PDF Pages
Only need to delete specific pages from a PDF file? It is simple to do with DocFly's Delete Pages tool. Now your PDF contains exactly the pages that you want.
All the PDF Tools You Need
DocFly offers all the tools you need to create, edit, merge and protect your PDF files. It is a complete suite of easy-to-use tools that will help you get your work done faster.
Secure upload and file storage
All file uploading to our PDF separator is encrypted via HTTPS to safeguard your content. Files are stored in a secured database managed by Amazon Cloud hosting. You can delete your files from our system anytime.
Access files from anywhere
DocFly is an online service and is accessible via any device connected to the internet. You can access your file from your home, the office or anywhere else.
Always up to date
DocFly is on the cloud, so whenever you access the site, you're accessing the latest version of the software. No lengthy updates - or software downloads - required.
CREATE PDF