How to Sign Documents Online
By

Team DocFly | on
Remote working has changed the way we do everything. More and more companies are deciding to keep their teams distributed across the country - or even the world.
This trend has made the digital signature market reach $2.8 billion, and it's projected to pick up to $14.6 billion by 2026.
What's even more impressive is the benefits e-signing has brought to companies and professionals like yourself.
According to LunarPen, companies becoming paperless see around 55% to 78% savings through cutting costs for materials, shipping, time, and subscriptions.
Those stats make sense considering that companies using electronic signatures receive signed documents four days and twenty-three hours faster than those using paper-based documentation.
With such impressive statistics, companies and countries are accepting eSigning as a valid, legally binding signature option everywhere.
To help you sign all of those job contracts, partnership agreements, NDAs, shipping permits, and legal documents with ease, we want to share a simple process for signing documents online that'll save time and money.
Table of Contents
Sign Documents Online for Free in 3 Steps with DocFly
Signing documents is an essential part of our professional and personal life. So it's vital to have a tool that makes it easier than having to print, sign, scan, and then send them back.
Here are three easy steps to sign any document online using DocFly:
1. Upload your document to DocFly
First things first, go to our pdf signing tool and upload the document you want to sign.
For this example, we'll use a web design contract.
After uploading, the tool will take you to DocFly's editor.
2. Add your signature and drop it on the corresponding line
Using the navigation on the left, scroll down and click the page you want to edit - in other words, the signature section.
Then click on signature to add your signature (if you have an account, your signature will be stored for you to use later on).
After adding your signature, you can just drop it with one click on the line.
3. Save your changes and send it
The only thing left to do is to save the changes and send the contract.
You can either send it directly to your DropBox, Google Drive, email (with a subscription plan) or download the signed document if you want to save it to your computer. You can then send it via email or share it through the above mentioned cloud storage services.
How to Extract Pages from a Contract or Online Document You Signed
Sometimes you'll want to keep your documents succinct or keep certain parts private.
Instead of sending the full document, it might be better to send the last page signed.
Here's how to do just that:
Just as before, you can upload your document by clicking the upload button or just by dropping it directly into the box.
2. Select your document and click on the edit tab to use the extract pages tool
Once you tick/check the box next to the document you want to edit, go to the edit tab to access the drop-down menu.
And then click on extract pages.
3. Set the range of pages you want to extract
Lastly, pick the range of pages you want to extract from the document.
For this example, we only want to extract the last page, so we'll set the range from 5 to 5 as this contract has five pages.
4. Rename your new document and download it
After the tool finishes extracting the page, it will add the new document to your dashboard.
Now, rename your document -- and you're done. The new record will only have the pages you selected.
Note: if you already have a document in your dashboard, you can also open the document, go to the Organize tab and click on the X on the top-right corner to delete the pages.
But this will delete the pages permanently, so if you don't want to lose any information, follow the process above.
Is eSigning Legally Binding?
In short, yes, it is. In 2000, the US passed the Electronic Signatures in Global and National Commerce Act, making eSignatures legal as their on-paper counterpart.
Likewise, Canada adopted the Uniform Electronic Commerce Act (UECA) in 2011 and Europe established the Electronic IDentification, Authentication and trust Services (eIDAS) regulation in 2014.
Of course, there are a few requisites to make your online signature (or your client's) legal:
There must be the intent to sign.

Both parties must consent to do business with each other.

There must be a record.
If these three conditions are met, then you have a legally signed document.
Note: according to Pinsent Masons "there is no statutory or case law authority confirming that simple electronic signatures can be used to execute deeds" in England and Wales. However, the eIDAS and the UK's Electronic Commission Act "confirm that qualified electronic signatures satisfy any legal requirements in the same way as handwritten signatures".
What Documents Cannot Be Electronically Signed
Although remote work and technology keep spreading the adoption of online signatures, there are still several documents that need to be manually signed.
Here's a list of all the documents that are not covered by the E-SIGN Act and so can't be electronically signed - yet:
Wills and testamentary trusts

Leases

Deeds

Adoption papers

Divorce papers

Court Orders

Notice of cancellation of utility service

Notice of repossessions

Notice of foreclosure

Notice of eviction

Product recall notices

Documents required to accompany the transportation of hazardous materials
The reasons for these limitations are, most likely, security.
However, this might change in the future as security measures get better and processes are clearly established.
Keeping your documents safe and easy to edit is crucial for your business and personal life success. However, there's no need to make this process complicated. Just add DocFly to your bookmarks bar, and with a few clicks, you'll be able to sign any document or contract you need.
Explore our tools
Sign a PDF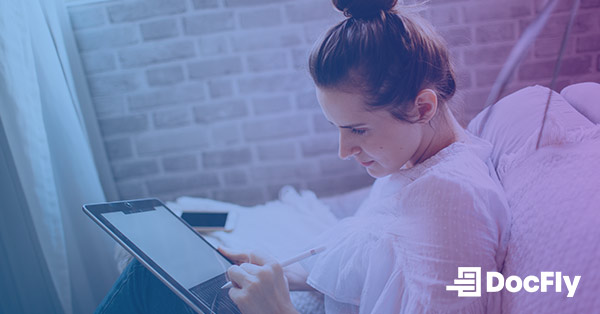 Related posts you might enjoy
How to fill out and sign a PDF form online
Why You Should Use & Create Fillable PDF Forms