Why You Should Use & Create Fillable PDF Forms
By

Team DocFly | on
Despite the truly paperless office remaining a lofty goal, the trend towards increased online activity has ramped up in recent times. The need to be able function remotely during times of crisis has encouraged many organizations to rethink how they acquire and process information in a digital world. This is especially the case with organizations moving away from offline systems which are consistently more prone to error and expensive to manage.
Fortunately, there is something that makes this conversion much easier: PDF Forms, or, more specifically, using PDF forms online.
Source: Unsplash/Scott Graham
Table of Contents
Reasons to create PDF forms
Historically, transforming paper-based form and intake processes to an online system was both expensive and difficult. Thankfully, the PDF File format is so easy-to-use that it has come to help many ordinary organizations upgrade their systems without the need for a taxing conversion process. Beyond the global trend towards going digital, here are three good reasons to choose the PDF file form specifically:
Easy to create
While in the past organizations often had to purchase expensive desktop PDF software or rely on a separate service in order to create fillable PDF forms, this is no longer the case.
There are now online PDF form creators that allow anyone to create a fillable form using just their browser. Thanks to these online PDF tools, most users are also able to create a form without any specific training. Our software, DocFly, has a super simple interface which still contains a wide variety of features such as text fields, checkboxes, radio buttons and dropdown fields -- facilitating easy creation of a variety of forms.
Easy to open & read
Due to the popularity of the PDF Format, PDF files have essentially become universally supported across the web. They can be viewed and filled out on the vast majority of consumer devices. According to numbers reported by the PDF Association, there are trillions of PDFs currently in existence and billions of new PDFs created every day. Recent data from Bing in that same report also shows that 70% to 80% of all documents on the web are in PDF format.
Despite numerous efforts to dethrone the file format, the PDF continues to grow in importance and the technological world has responded by making it the default document type for intraweb transmission.
Easy to share
As forms created using a PDF form creator are PDF files, they can be easily shared in a number of ways. For example, they can be shared via digital signature ("send to sign") services, email, or as a shareable link (e.g. when hosted on a cloud storage service such as Dropbox).
Reasons to use online PDF forms
Now that we've covered why you should stick to PDF forms, let's hone in on online PDF Forms. Beyond the obvious downsides of paper-based processes, there are many unforeseen advantages to using online forms. Specifically:
Easy to use
A survey by SoftwareAdvice found that most consumers would rather fill out an online form in advance than fill out a paper form in person. This solidly indicates that users find filling out online forms much easier than paper-based forms which need to be scanned or physically returned. This is good news for practices or businesses looking to refine workflows. Taking advantage of the user-friendliness of online forms is also especially important for businesses looking to improve response rates/times of signed sales agreements, lead inquiry forms, surveys, or other important documents that are often procrastinated, time-consuming, or seen as extraneous. In fact, Instacart's switch to wholly online intake forms increased their contract completion speed for potential shoppers by 270%. Creating an online PDF form is a great way to make regular processes easier for users, improving workflows and reducing turnaround friction.
Look professional
Beyond streamlining and improving operations, that same SoftwareAdvice survey showed that online forms make business appear more professional relative to paper-based forms. This is probably in part due to online PDF forms already being more frequently used by governments and other large organizations in order to receive information securely. As more organizations move online, user expectations are rising to match accordingly.
Integrate with existing applications
Lastly, the information received or displayed on an online form can be quickly and easily integrated with an organization's other applications. For example, customer data from the popular CRM system Salesforce can be populated and received via PDF forms. Platforms like IFTTT and Zapier further open the door to a multitude of personalized ways for utilizing those forms within your workflow. As more organizations look to manage their data across a variety of applications, the urgency to move to a fully online process has become inescapable - and ease of integration a necessity.
Concluding thoughts on online PDF forms
In the end, with the world increasingly moving online, modern organizations are following suit by choosing online forms to acquire and process information. Given their many natural advantages, the decision to specifically create PDF forms for intake or other related processes remains a solid choice. Using PDF forms online undoubtedly makes it much easier for businesses to operate both digitally and efficiently.
Explore our tools
Fill a PDF form

Create a PDF form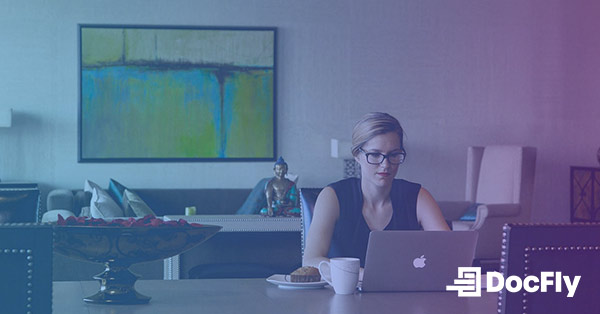 Related posts you might enjoy
How to fill out and sign a PDF form online
How to create a fillable PDF form template using only free tools